AARP Tax-Aide at Goodall Library
Every Monday through April 17th
10 AM to 4 PM
Walk-ins welcome, or call 710-0979 to request an appointment.
Coloring for Relaxation
Coloring Calm, Goodall Library's coloring workshop for adults, continues through the Winter on three Monday nights:
January 30, February 27, and March 27
in the Thornburg Community Room at 6:00 PM
Coloring sheets and supplies will be provided (or you can bring your own). Color in a relaxing, group setting with music and refreshments provided.
Board Members Wanted
Do you believe that a public library is vital to the health and well-being of the community?
Are you passionate about learning, committed to equality, fairness and transparency, and willing to work with others to achieve goals?
The library Board of Trustees is looking for you! Read more...
Hours
10–8 Monday—Thursday
10–5 Friday
10–4 Saturday
Library Location
Corner of Main and Elm Streets in downtown Sanford. Parking and entrance on Elm St.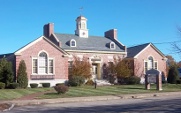 Support Maine Libraries
Check the Maine Public Library Fund donation box on your Maine income tax return!
Sweet Reads: Winter Reading Program

Kids! Don't get cabin fever this Winter! Join our Winter Reading Club!
Meditation Series

Relieve anxiety, anger and depression by learning to live in the present moment. Enjoy deep stillness and quiet and rid your mind of negative chatter. Live with more acceptance, letting go, happiness, and gratitude.
Instructor: Cindy Simon, M.A., NCC, RMT
When: Mondays at 4:00 PM
January 23, February 13, and March 20
Where: Thornburg Community Room
Local Newspapers Digital Archive
Digital scans of the Springvale Advocate and Sanford Tribune from 1895 to 1941
Full-text search capability.
A joint project of Goodall and Springvale libraries.
Top of Page | Last update: 24 Feb 2017