Coloring Calm
Goodall Library's coloring workshop for adults, continues on Mondays, April 23, May 21,, June 25, July 23, and August 27 at 6:00
Coloring sheets and supplies will be provided (or you can bring your own). Color in a relaxing, group setting with music and refreshments provided.
Author Reading and Book Signing

Thursday, April 26th at 6:30
If you are a fan of horror fiction, join author P. G. Smith as he discusses and reads from his new novel, Prayers for Evil.
"I'm particularly delighted to be reading in Sanford," Smith says, "because it was the model for the novel's fictional setting."
The event is free of charge; copies of the book will be available for sale and signing.
USS Squalus Rescue
Tuesday, May 1st at 6:30
David Ramsay, local historian, narrator, and storyteller will present The Rescue of USS Squalus (SS-192): the most famous submarine rescue in US Naval history. On May 23, 1939 the Squalus sank 240 feet to the ocean floor off New Hampshire. The Navy used innovative rescue methods to save the trapped crew.
Mosaic Plexiglass Suncatchers
Tuesday, May 8 at 6:00
Leslie Doherty, Ways of Color artist/owner, will lead a workshop on how to make a one-of-a-kind suncatcher with small pieces of colored plexiglass. This could be the perfect unique gift for that hard to buy for special person.
The cost for the workshop is $13 for material (due on the night of the program) and pre-registration is required.
History of "The Castle"
Monday, May 14 at 6:00
Join us as we welcome award-winning filmmaker Neil Novello who will be showing historical photos and video clips from his documentary film The Castle: Stories of the Portsmouth Naval Prison (sometimes called the "Alcatraz of the East").

Library Survey
The library is developing a strategic plan to meet the changing needs of the community. Please take a few minutes to share your thoughts and opinions.
Three surveys are available - you are invited to respond to any which fit your situation:
Seated Yoga and Creative Movement
Wednesday, May 2, June 6, July 11, August 1 at 6:30

Reduce stress and tension, aches and pains, and insomnia. Increase well-being, and tone your body. Come learn and practice stretches, yoga positions, tai chi exercises, and deep breathing while seated in a chair or standing (with a chair for support if needed).
Classes are led by Cindy Simon, M.A., NCC , RMT.
Table-Top Gaming

Saturdays, May 12, June 23, July 21, August 18 from 10:00 to 3:30

All experience levels are welcome. Covered drinks and outside food are welcome in the Community Room on gaming days.
Some of the games at the event will be: Forbidden Desert, Pandemic, Ticket to Ride, Zombie Dice, Munchkin, Qwirkle, Quartex, Race to the North Pole, Fluxx, Gingerdead House, Kingdomino, Eminent Domain, Carcassonne. Or bring your own to share with the group.
Knitting and Needle Craft
Thursdays, May 3, June 7, July 5, and August 2 at 6:30
Attention knitters and other needle crafters: we'd love to have you join our needle crafters group the first Thursday of each month. It's the perfect time to bring that project you've been working on and enjoy the company of others in a relaxed setting. Refreshments are provided. We hope to see you there!
Library Hours
10–8 Monday—Thursday
10–5 Friday
10–4 Saturday
Location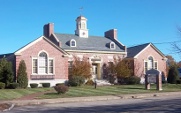 Corner of Main and Elm Streets in downtown Sanford. Parking and entrance on Elm St.